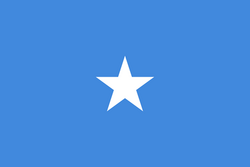 Somalia (Somali: Soomaaliya, Arabic:as-Sumal), officially the Republic of Somalia (Somali: Jamhuuriyah Soomaliya, Arabic: Jumhuriyyat as-Sumal), is an African nation bordere by Djibouti, Kenya and Ethiopia, with a coastline on the Indian Ocean and the Gulf of Aden.
Islam is the official state religion of Somalia and Sharia law is the foundation of the nation's legal system. The population of Somalia is almost entirely Muslim, most are followers of Sunni Islam although there are some adherents of Shia and Sufism also.
Christianity is a minority religion in Somalia, followed by only about a thousand people out of a population of eight million. There is only one Roman Catholic diocese, the Diocese of Mogadishu, for the entire country. Somalia, along with Djibouti, Ethiopia and Eritrea is under the jurisdiction of the Holy Archdiocese of Aksum of the Greek Orthodox Patriarchate of Alexandria and all Africa.
See also
External links