This article expresses a personal opinion about a religion or a topic related to religion. Please be respectful in your talk page comments, even if you strongly disagree with the opinions expressed here. You can, of course, write another article about the same subject. Different opinions are welcome on Religion Wiki.
Please be patient.
This page is very large and can take a minute to load.
Noah
Noah נוֹחַ (a righteous man)[¶ 1]
Ham[4] חָ֣ם

Cush[5] כּ֥וּשׁ (was the father of Nimrod[6] בָּבֶ֔ל


Seba סְבָא֙
Havilah חֲוִילָ֔ה
Sabtah סַבְתָּ֥ה
Raamah רַעְמָ֖ה

Sheba בְנֵ֥י
Dedan דְדָֽן

Sabteca סַבְתְּכָ֑א

Lud לוּדִ֧ים
Anam עֲנָמִ֛ים
Lehab לְהָבִ֖ים
Naphtu נַפְתֻּחִֽים
Pathru פַּתְרֻסִ֞ים
Caslu כַּסְלֻחִ֗ים

Philistines[¶ 2] פְּלִשְׁתִּ֖ים
Caphtor כַּפְתֹּרִֽים

Sidon צִידֹ֥ן
Heth חֵֽת
Jebus הַיְבוּסִי֙
Amor הָ֣אֱמֹרִ֔י
Girgash הַגִּרְגָּשִֽׁי
Hiv הַֽחִוִּ֥י
Ark הַֽעַרְקִ֖י
Sin הַסִּינִֽי
Arvad הָֽאַרְוָדִ֥י
Zemar הַצְּמָרִ֖י
Hamath הַֽחֲמָתִ֑י

Shem[9] שֵׁ֖ם

Elam עֵילָ֣ם
Ashur אַשּׁ֑וּר
Arpachshad[10] אַרְפַּכְשַׁ֖ד


Shelah שָׁ֑לַח

Eber[11] עֵֽבֶר

Peleg פֶּ֗לֶג
Joktan (son of Eber)[12] יָקְטָֽן

Almodad אַלְמֹודָ֖ד
Sheleph שָׁ֑לֶף
Hazarmaveth חֲצַרְמָ֖וֶת
Jerah יָֽרַח
Hadoram הֲדֹורָ֥ם
Uzal אוּזָ֖ל
Diklah דִּקְלָה
Obal עֹובָ֥ל
Abimael אֲבִֽימָאֵ֖ל
Jobab יֹובָ֑ב (Job?)

Uz ע֥וּץ
Hul ח֖וּל
Gether גֶ֥תֶר
Mash מַֽשׁ

Japheth[14] יֶ֔פֶת

Ashkenaz אַשְׁכֲּנַ֥ז
Riphath רִיפַ֖ת
Togarmah תֹגַרְמָֽה׃

Magog מָגֹ֔וג
Madai מָדַ֖י
Javan[16] וְיָוָ֣ן (Ion)


Elishah אֱלִישָׁ֣ה
Tarshish תַרְשִׁ֑ישׁ
Kittim כִּתִּ֖ים
Rodanim דֹדָנִֽים׃ (compare to Nimrod)
Flood of Noah
Time
Event
500 years
Noah begat Shem, Ham, and Japheth.
Ark:

Length: 300 cubits
Width: 50 cubits
Height: 30 cubits

Two of every sort (male and female)

Fowl, Cattle, and Creepers

Clean beasts by 7 (male and his female)
Unclean beast by 2 (male and his female)
Fowl by 7 (male and his female)
7 days
Rain
Noah was 600 years old when flood of waters was upon the earth.
After 7 days
flood of waters was upon the earth.
2-17
of Noahs 600th year.
fountains of the great deep broken up
windows of heaven were opened.
40 days
Rain
Entered the ark

Noah, and Shem, and Ham, and Japheth
Noah's wife, and the three wives of his sons
beast, cattle, creepers, fowl, bird
two and two of all flesh, wherein is the breath of life.

40 days
Flood was on earth

waters prevailed, increased greatly

ark went upon the face of the waters
High hills covered
15 cubits. Mountains covered

all flesh died
Fowl, cattle, beast, creeper
All in whose nostrils was the breath of life

every living substance was destroyed

Man, cattle, creepers, fowl

150 days
waters prevailed
Wind

fountains also of the deep and the windows of heaven were stopped
rain restrained
waters returned

end of 150 days
waters were abated
7-17
Ararat
10-1
Heads of the mountains
40 days
Opened window

Raven
dove

7 days
Dove. Olive branch
7 days
Dove. Didn't return
1-1
Noahs 601st year

Waters dried
removed the covering
Ground dry

2-27
Earth dry
Exit ark
Abraham, Isaac, and Jacob
year
place
event
0
Ur
Birth of Abram
?
Ur
Terah leaves Ur (which worshipped the moon God Nanna) with Abram and Lot
75
Haran (Hebron)
Abram leaves Haran.
Great tree of Moreh

at Shechem (Hebron?)

Lord promised him that land.
Built altar
Canaanites were in the land.
Hills east of Bethuel
Between Bethel an Ai.

Built altar.
Call upon name of YHWH
continued toward negev
Famine
Egypt
said wife was sister
Negev
from place to place
Lot with him.
Bethel.
Between Bethel and Ai.
Place of first altar
Called upon name of YHWH.
Canaanites of Perizites in the land.
Lot and Abram separate.
Lot chooses plain of Jordon toward the east and the cities of the plain near Sodom.
Lord promised Abram the land.
Descendants likened to dust
Great trees of Mamre the Amorite
(brother of Eshcol & Aner)
Build and altar
14th year of Chedorlaomer.
Pursued to Dan. Routed to Hobah north of Damascus
Lot rescued by Abram, Aner, Eshcol, & Mamre.
Valley of Shaveh
The kings valley
offers tenth to Melchi-zedek
After this
Lord promises Abram an heir (other than Eliezer of Damascus).
Descendants likened to stars.
Heifer, goat, and ram.

Sun setting
Deep sleep. Horror of darkness
prophecy of 400 year slavery. 4th generation.
Sun set and darkness fallen
Blazing torch.
Land promised to Abram
 
In the land 10 years
Hagar pregnant, flees to Lot in Sodom to avoid circumcision
Spring in the desert beside road to Shur
well, Beer Lahai Roi, between Kadesh and Bered
Angel of the Lord
Will increase your descendants beyond count
You shall name him Ishmael
You are the God who sees me
86
Ishmael born
99
Covenant
Changes name to Abraham.
Promises the land.
Circumcision.
Sarai renamed Sarah
You will call him Isaac this time next year
Ishmael will be father of 12 rulers
On that day
Ishmael and every male circumcised
Heat of the day
Abrahams tent near
the Great trees of Mamre.
3 Visiters.
I will return to you this time next year and Sarah will have a son.


Sodom destroyed.

Negev between Kadesh and

Shur


Gerar
Tells Abimelech at Gerar that Sarah was his sister
100
Sarah gives birth to Isaac.
8 days old
Circumcised Isaac
Weaned
Feast/Mocking
Next morning
Ishmael sent away.
Desert of Beersheba
Angel of God
Well
Desert of Paran. Archer. Wife from Egypt
At that time
Beersheba
Well stolen by Abimelek
treaty of Beersheba with Abimolech
Tamarisk tree
A long time
Land of the Philistines
Some time later
God tell him to sacrifice Isaac on a mt in the region of Moriah (Jerusalem)
Next morning
Abraham Leaves
On the third day
Saw the place in the distance
Leaves the servants
Angel of the Lord
Calls that place "the Lord will provide"
Descendants likened to stars and sand
Beersheba
Some time later
Told that Milcah bore sons to Nahor
 
Sarah was 127.
Hebron. (Kiriath Arba) in Canaan
Sarah dies.


Abraham buys cave of Machpelah & field & trees near Mamre
from Ephron the Hittite for 400 shekels of silver
Isaac comes from 'well of one who sees me'.

Abraham very old
Rebekah
175.
Abraham dies. buried by Isaac in cave of Machpelah at Mamre
140.
Isaac, 40 yrs old, marries Rebekah
160.
Jacob and Essau born when Isaac is 60 yrs old
200
Beersheba
Essau, 40 yrs old, marries Judith daughter of Beeri the Hittite.


Jacob flees to Laban in Haran & begins working 7 yrs for Leah.
Essau marries Basemath daughter of Elon the Hittite.

207
Haran
Jacob begin to work 7 yrs for Rachel
214
Haran
Jacob begins to work 20 years for his flocks
234
Haran
Jacob stays with Laban for 20 years
250 (280-30)
Haran
Birth of Joseph?


Jacob leaves Haran

267.
Joseph, 17 yrs old, dreams.
Dothan
Joseph sold to midianites then to Potiphar, captain of the guard.
280
Isaac dies.


Joseph, 30 yrs old, stands before Pharaoh.
7 years of plenty begin

287
7 Years of famine begin
290
Jacob, 130 yrs old, stands before Pharaoh (probably a Passover)
Leah
Reuben!
my first-born thou, My power, and beginning of my strength,


The abundance of exaltation, And the abundance of strength;
Unstable as water, thou art not abundant;
For thou hast gone up thy father's bed;
Then thou hast polluted: My couch he went up!

31 And Jehovah seeth that Leah [is] the hated one, and He openeth her womb, and Rachel [is] barren;

32 and Leah conceiveth, and beareth a son, and calleth his name Reuben, for she said, `Because Jehovah hath looked on mine affliction; because now doth my husband love me.'

33 And she conceiveth again, and beareth a son, and saith, `Because Jehovah hath heard that I [am] the hated one, He also giveth to me even this [one];' and she calleth his name Simeon.

34 And she conceiveth again, and beareth a son, and saith, `Now [is] the time, my husband is joined unto me, because I have born to him three sons,' therefore hath [one] called his name Levi.

35 And she conceiveth again, and beareth a son, and saith this time, `I praise Jehovah;' therefore hath she called his name Judah; and she ceaseth from bearing.

Simeon and Levi
[are] brethren! Instruments of violence -- their espousals!


Into their secret, come not, O my soul!
Unto their assembly be not united, O mine honour;
For in their anger they slew a man, And in their self-will eradicated a prince.
Cursed [is] their anger, for [it is] fierce, And their wrath, for [it is] sharp;
I divide them in Jacob, And I scatter them in Israel.

Judah!
thou -- thy brethren praise thee!


Thy hand [is] on the neck of thine enemies,
Sons of thy father bow themselves to thee.
A lion's whelp [is] Judah, For prey, my son, thou hast gone up;
He hath bent, he hath crouched as a lion, And as a lioness; who causeth him to arise?
The sceptre turneth not aside from Judah, And a lawgiver from between his feet,
Till his Seed come; And his [is] the obedience of peoples.
Binding to the vine his ass, And to the choice vine the colt of his ass,
He hath washed in wine his clothing, And in the blood of grapes his covering;
Red [are] eyes with wine, And white [are] teeth with milk!

Leah
Issacher
[is] a strong ass, Crouching between the two folds;


And he seeth rest that [it is] good, And the land that [it is] pleasant,
And he inclineth his shoulder to bear, And is to tribute a servant.

17 And God hearkeneth unto Leah, and she conceiveth, and beareth to Jacob a son, a fifth,

18 and Leah saith, `God hath given my hire, because I have given my maid-servant to my husband;' and she calleth his name Issachar.

19 And conceive again doth Leah, and she beareth a sixth son to Jacob,

20 and Leah saith, `God hath endowed me -- a good dowry; this time doth my husband dwell with me, for I have borne to him six sons;' and she calleth his name Zebulun;

21 and afterwards hath she born a daughter, and calleth her name Dinah.

Zebulun
at a haven of the seas doth dwell, And he [is] for a haven of ships;


And his side [is] unto Zidon.

Zilpah
Gad!
a troop assaulteth him, But he assaulteth last.

9 And Leah seeth that she hath ceased from bearing, and she taketh Zilpah her maid-servant, and giveth her to Jacob for a wife;

10 and Zilpah, Leah's maid-servant, beareth to Jacob a son,

11 and Leah saith, `A troop is coming;' and she calleth his name Gad.

12 And Zilpah, Leah's maid-servant, beareth a second son to Jacob,

13 and Leah saith, `Because of my happiness, for daughters have pronounced me happy;' and she calleth his name Asher.

14 And Reuben goeth in the days of wheat-harvest, and findeth love-apples in the field, and bringeth them in unto Leah, his mother, and Rachel saith unto Leah, `Give to me, I pray thee, of the love-apples of thy son.'

15 And she saith to her, `Is thy taking my husband a little thing, that thou hast taken also the love-apples of my son?' and Rachel saith, `Therefore doth he lie with thee to-night, for thy son's love-apples.'

16 And Jacob cometh in from the field at evening; and Leah goeth to meet him, and saith, `Unto me dost thou come in, for hiring I have hired thee with my son's love-apples;' and he lieth with her during that night.

Out of Asher
his bread [is] fat; And he giveth dainties of a king.
Rachel
Joseph
[is] a fruitful son; A fruitful son by a fountain, Daughters step over the wall;


And embitter him -- yea, they have striven, Yea, hate him do archers;
And his bow abideth in strength, And strengthened are the arms of his hands By the hands of the Mighty One of Jacob,
Whence is a shepherd, a son of Israel.
By the God of thy father who helpeth thee, And the Mighty One who blesseth thee,
Blessings of the heavens from above, Blessings of the deep lying under, Blessings of breasts and womb; --
Thy father's blessings have been mighty Above the blessings of my progenitors,
Unto the limit of the heights age-during They are for the head of Joseph,
And for the crown of the one Separate [from] his brethren.

22 And God remembereth Rachel, and God hearkeneth unto her, and openeth her womb,

23 and she conceiveth and beareth a son, and saith, `God hath gathered up my reproach;'

24 and she calleth his name Joseph, saying, `Jehovah is adding to me another son.'

Benjamin!
a wolf teareth; In the morning he eateth prey, And at evening he apportioneth spoil.'
Bilhah
Dan
doth judge his people, As one of the tribes of Israel;


Dan is a serpent by the way, An adder by the path,
Which is biting the horse's heels, And its rider falleth backward.
For Thy salvation I have waited, Jehovah!

30

1And Rachel seeth that she hath not borne to Jacob, and Rachel is envious of her sister, and saith unto Jacob, `Give me sons, and if there is none -- I die.'

2 And Jacob's anger burneth against Rachel, and he saith, `Am I in stead of God who hath withheld from thee the fruit of the womb?'

3 And she saith, `Lo, my handmaid Bilhah, go in unto her, and she doth bear on my knees, and I am built up, even I, from her;'

4 and she giveth to him Bilhah her maid-servant for a wife, and Jacob goeth in unto her;

5 and Bilhah conceiveth, and beareth to Jacob a son,

6 and Rachel saith, `God hath decided for me, and also hath hearkened to my voice, and giveth to me a son;' therefore hath she called his name Dan.

7 And Bilhah, Rachel's maid-servant, conceiveth again, and beareth a second son to Jacob,

8 and Rachel saith, `With wrestlings of God I have wrestled with my sister, yea, I have prevailed;' and she calleth his name Napthali.

Naphtali
[is] a hind sent away, Who is giving beauteous young ones.
Book of Job
Exodus
time
event
0
Birth of Moses
3 Months later
Moses put adrift in reed ark. found by Pharaohs daughter
When the child grew older
Taken to Pharaohs daughter and adopted and named 'Moses' by her
After Moses had grown up. 40 years old[17]
Killed Egyptian. fled to Midian. married Zipporah. begot Gershom
40 Years later[18]
Saw angel in burning bush on mt Horeb. Moses, wife, and sons return to Egypt
Circumcised son. met Aaron
Aaron speaks to elders who believe him
Moses and Aaron speak to Pharaoh but he orders that they no longer be supplied with straw
God promises to free them but elders no longer listen
Moses 80. Aaron 83
God order Moses to

tell Aaron

to throw his staff down before Pharaoh. it becomes a serpent
God tells Moses to

tell Aaron

to stretch out his staff over the Nile.

Nile becomes blood

7 Days passed
God tells Moses to

tell Aaron

to stretch out his staff over the streams.

plague of frogs

Pharaoh relents. Moses calls to the Lord. frogs die. Pharaoh hardens his heart

God tells Moses to

tell Aaron

to strike the dust with his staff.

plague of gnats

God tells Moses to tell Pharaoh that flies will appear.

plague of flies

Pharaoh offers to let the Israelites sacrifice in Egypt. then agrees to let them go to the desert but not far. Moses prayed. flies die. Pharaoh hardened his heart

God tells Moses to tell Pharaoh that there will be a plague on Egyptian livestock. there is a

plague on livestock

God tells Moses to throw ashes into the air before Pharaoh.

plague of boils on man and animal

God tells Moses to warn Pharaoh that there will be a terrible hailstorm. those officials that feared God brought their slaves and livestock indoors.
God tells Moses to stretch out his hand toward the sky. Moses stretched out his staff.

plague of hail

occurred.

Pharaoh relents. Moses spreads out his hands toward the Lord. hailstorm stops. Pharaoh hardens his heart.

God tells Moses to speak to Pharaoh. Moses tells Pharaoh that locusts are next.

Pharaoh summons Moses. tells him that he will only allow the men to go. drives Moses from his presence.

Moses stretches out his staff. east wind blows all that day and all that night. brings

plague of locusts

.

Pharaoh summons Moses. confesses his sin. Moses prays. strong west wind blows locusts to sea of reeds.

God tells Moses to stretch out his hand toward the sky.

plague of total darkness

for 3 days. Israelites had light.

Pharaoh allows women to go but not herds. Moses refuses offer. Pharaoh tells Moses he will kill him if he sees him again.

Moses summons elders. tell them to sacrifice the Passover lamb and put its blood on the doorposts.
1-15

(Passover) At midnight

The Lord

struck down the firstborn

.
1-15 During the night

Pharaoh summoned Moses and Aaron. tells them to leave with their herds.
Wandering & Conquest
1 month = 29.5 days = 4 weeks
time
Place
event
1-14
Rameses
430 years to the day after Jacob entered[19]
they journey from Rameses to Succoth[20][21]
Succoth
Etham[22]
Pihahiroth[23]
parting of the sea of reeds
1-17
wilderness of Shur.
Marah
3 Days journey[24] people murmured against Moses
Elim[25]
camped by the waters
2-15[26]
wilderness of Sin
Passover for those unclean on 1-14.
Quail in evening.
manna in morning. they eat manna for 40 years[27]
Rephidim[28] (pyramids?)
Meribah/Massah[29]
Horeb
water from rock in Horeb.
Amalekites attack.[30]
Jethro (Re(g)uel?) arrives[31]
2-26
Feast of Weeks. See lev 23:15-16
3-1
Desert of Sinai.
before the mountain.
first day of the 3rd month after leaving Egypt.[32]
Mosaic covenant established.
3rd day
 
Thunder and lightening and thick cloud. God descends to mt Sinai.


Ten Commandments given

6 days (lev 24:16)
cloud covers mount
God gives Moses laws to set before the Israelites & sends angel before them
Moses reads Book of the Covenant to the people.
70 elders see God[33]

7th day

40 Days[34]

Tabernacle

1
1
2
3
-
-
4
5
6
1
2
2
3
3
4
4
5
5
6
6
7
7
8
8
9
9
10
—
—
—
—
—
—
—
—
10
11
11
12
12
13
13
14
14
15
15
16
16
17
17
18
18
19
19
20
20

Courtyard of 100*50*5 cubits.[35]

Tabernacle 20*10*10 cubits

Inner sactuary (10*10) in the rear of the tabernacle (holy of holies or most holy place)

Inner veil (encircling a 7*7*4 square area?)
The Ark
Mercy seat

Outer sactuary or holy place (10*10)

Outer veil
Lampstand
Table
Altar of incense
Basin (laver).

Curtains

11 outer (4*30)
10 inner (4*28)

boards (10*1.5)

20 north
20 south
6 west
8 corner (2 per corner)

15 crossbars

altar of burnt offering (5*5*3) (In front of tabernacle)
Gate

20 cubits on east side

pillars

N 20
S 20
W 5
E 3+3




Priestly garments

breastplate

foursquare
4 rows of 3 stones

sardius

,

topaz

,

carbuncle

emerald

,

sapphire

, diamond

ligure

,

agate

,

amethyst

beryl

,

onyx

, jasper

compare to covering of tyre

sardius, topaz,

diamond

,
beryl, onyx, jasper,
sapphire, emerald,

carbuncle

gold

compare to rainbow

purple

,

blue

,

green

,

yellow

,

orange

,

red

,

purple

Urim and Thummim (stars of heaven?)[36]

ephod (shoulders)
robe
coat
miter + crown
girdle




Consecration of priests (7 days)

bullock (sin offering)

killed at altar
blood placed upon horns of altar
fat burned
flesh, skin, dung burned outside the camp

Ram (burnt offering)

blood sprinkled around altar
cut into pieces and washed then burnt upon altar

Ram (burnt offering)

blood upon Aaron and his sons

upon tip of right ear
upon thumb of right hand
upon great toe of right foot
sprinkled upon garments

fat & rump, kidneys, right shoulder, loaf of bread, 1 cake, 1 wafer (wave offering)
breast (wave offering)

unleavened bread
cakes
wafers




Continual offering morning and evening (meal offering and drink offering)

lamb of first year
1/10th part of flour mixed with 1/4th hin of oil
1/4th hin of wine





Census

atonement money from everyone over 20 yrs old

1/2 shekel




Anointing oil

myrrh
cinnamon
calamus
cassia
olive oil




Incense

stacte
onycha
galbanum
frankincense




Bezalel son of uri son of hur of judah
Oholiab son of ahisamach of dan
Sabbath is a sign forever
2 tablets of the Testimony.

5-1
golden calf/cherub[37]
40 Days[38][39]
Moses sees God and creates new tablets.
6-10
Aaron sees Moses face shine[40]
1-1 (2nd year)[41]
tabernacle set up
Numbers
1-14 (2nd year)[42]
Passover. those unclean told to celebrate passover next month[43]
2-1 (2nd year)[44]
Census[45]
2-14
Passover for unclean
2-20 or 3-4[46][47]
Taberah
Hobab son of Re(g)uel (Moses father-in-law) leaves.
Set out for desert of Paran.
people grumble at Taberah.[48]
Moses spirit placed on 70 elders.[49]
Kibrothhattaavah
quail cover the camp at Kibrothhattaavah.[50][51]
Hazeroth
journey to Hazeroth.[52]
Miriam and Aaron complain against Moses.[53]
Miriam confined 7 days[54]
40 days
Desert of Zin (Paran).[55]
Kadesh.
spies return to desert of Paran after 40 days.

Hormah
Israelites try to take the promised land anyway.
Amalekites and Canaanites beat them back to Hormah.[58]
Rithmah[59]
Rimmonperez
Libnah
Rissah
Kehelathah
Mount Shapher
Haradah
Makheloth
Tahath
Terah
Mithkah
Hashmonah

Moseroth (Zalmonah)
Benejaakan (Punon)
Horhagidgad (Gudgodah)
Jotbathah (Oboth)
Abronah (iye-abarim)

Ezion-Geber
offerings. sin offering. willful sinner to be cut off.


Sabbath breaker killed.[60]
fringes for border of garment
Korah uprising against Moses and Aaron[61]
Earth swallowed them.
Congregation murmured saying 'you have killed the people of the Lord'.
plague.
Aarons staff sprouts.[62]
Red heifer.

In the 1st month
Kadesh
Miriam remains in Kadesh for the rest of her life


Messengers sent to Edom.
Edom refuses to let them pass through.[63]

Hormah
Mt Hor[64]
Meribah[65]
waters of Meribah from rock.[66][67]


Aaron died.[68]
mourned 30 days[69]
Canaanite king Arad of the Negev beaten at Hormah.[70]

Sea of Suph (Reeds)
journeyed from Mt Hor around Edom along Reed sea.
the soul of the people was much discouraged because of the way.[71]
venomous hooded (winged) cobras.[72]
Nehushtan.[73] (See Rod of Asclepius)
Oboth,
Ijeabarim,
Zared,
Aronon,
Beor,
Mattanah,
Nahaliel,
Bamoth,
Pisgah.
journeying.[74]
Israelites take land of Amorites.[75]
Capture Jaazer and Bashan.[76]
Jordon across from Jericho.[77]
Balak king of Moab sends for Balaam.[78]
Shittim.
Baal of Peor.[79]


Phinehas stops plague by killing Zimri and Cozbi.[80]
2nd census.[45][81][82]
Zelophehads daughters promised land.
Joshua to succeed Moses.
Midian defeated.[83]
Balaam killed.[84]
Reubenites and Gadites promised land of Jazer and Gilead.[85][86]
Cities of refuge.[87]

11-1 (40th year)
Moses gives speech of Deuteronomy.[88]
30 Days
Mountain of Nebo.
Top of Pisgah.
Mount Abarim?[89]
Death of Moses.
Mourning for 30 days[90]
after the death of Moses
God commands Joshua to cross Jordon.[91]


Joshua prepares the people.[92]
Spies sent out.[93]
Spies return.[94]
Camped at the Jordon.[95]

1-10
Gilgal[96]
Circumcision at Gilgal.[97]
1-14
Passover.[98]
Manna ceased.[99]
Jericho
Fall of Jericho.[100]
Ai
Israel routed by Ai.
Achen stoned for taking 200 shekels of silver and 50 shekels of gold and a robe.
Ai destroyed.
Joshua copied on stone the law of Moses. (compare Deut 27)
Gibeonites make treaty of peace with Israel.
Sun stands still.
Amorite kings of Jerusalem, Hebron, Jarmuth, Lachish, and Eglon defeated.
Libnah then
Lachish then
Eglon then
Hebron then
Debir destroyed.
returned to Gilgal.
Jabin King of Hazor, Jobab king of Madon, and northern kings defeated.
Hazor destroyed.
Anakites destroyed.
Caleb given Hebron.
Reubenites, Gadites, and Manasseh build altar.
Israelites nearly declare war.
Shechem
At Shechem Joshua records covenant in the Book of the Law of God.
Joshua dies at 110
Judges
Judah destroys Jerusalem then attacks Hebron then Debir.
Othniel given Calebs daughter Acsah for taking Kiriath-sepher
Simeon destroy Zephath (Hormah)
Judah takes Gaza, Ashkelon, and Ekron.
take hill country but not plains.
Hebron given to Caleb who drove from it the 3 sons of Anak.
Joseph takes Bethel (Luz).
Feasts and offerings
sabbaths are marked with an asterisk

Time
Feast
1-10
Passover lamb selected
1-14
Passover (preparation day) (Barley harvest)
1-15
*
First day of unleavened bread
1-20
sheaf of first grain waved before the Lord
1-21
*
Last day of unleavened bread
2-14
Passover for those unclean on 1-15numbers 9˄
3-3
*
Feast of weeks[¶ 3] (wheat harvest)
7-1
*

Feast of Trumpets

7-10
*

Day of Atonement

leviticus 16˄
7-15
*
First day of Feast of Tabernacles[¶ 4] (fall harvest)
7-22
*
Last day of Feast of Tabernacles
8-15
Jeroboams festival (like the feast of trumpets)
9-25
Feast of the dedication (celebrated 8 days)
12-14

Purim

7-10
Jubilee every 49th or 50th year

| offering | notes |
| --- | --- |
| Burntleviticus 1˄ | male sheep, goat, or pigeon for atonement |
| Grain | fine flour with oil and incense without yeast |
| Fellowship | From herd or flock |
| Sin (unintentional) | Whatever he can afford |
| Guilt | Ram |
| Dailynumbers 28˄ | 2 lambs. 1 in morning. 1 in evening |
| Sabbath | 2 lambs |
| Monthly | 2 bulls, 1 Ram, 7 lambs, + 1 goat sin offering |
| firstfruits and tithesdeuteronomy 26˄ | 1/10th produce in 3rd year. |

supplementary offerings:
(Lamb) + 1/10 ephah fine flour + 1/4 hin oil + 1/4 hin wine
(Ram) + 2/10 ephah fine flour + 1/3 hin oil + 1/3 hin wine
(bull) + 3/10 ephah fine flour + 1/2 hin oil + 1/2 hin wine
allotment of land to the 12 tribes of Israel
See: Outline of the Bible/Biblical geography
Kings of Edom
Judges
Solomon began building the temple 480 (12*40) years after the Exodus (1_kings 6). 410 years are accounted for in the book of judges. This would seem to leave 70 years to account for the wandering in the desert (40 years), Joshua's life after the conquest (unknown), and the reigns of Shamgar (unknown), Eli (40 years), Philistines (20 years), Samuel (unknown), David (40 years), and the 4 years that Solomon ruled before beginning to build the Temple.
Gideon, at the beginning of his reign, claimed that the Israelites had occupied the land of Ammon for 300 years.
enemy
yrs
yrs
judge
territory added
Notes
Amorites
40
Moses
Manasseh + Makir + Gad + Reuben
Adoni-zedek
Joshua
Judah
Aram
8
40

Othniel

Ephraim
Moab
18
80

Ehud

Benjamin?
Philistines?
?

Shamgar

Simeon?
Jabin. King of Canaan
20
40
Deborah
Naphtali + Zebulon
Midian
7
40
Gideon (Jerub-Baal, Jerub-Bosheth[102])
Asher?
1700 shekels of gold. ephod in his city Ophrah
Abimelech
3 + ?
23 + 22

Tola

+

Jair

Issachar
Philistines & Emim
18
6 + 7 + 10 + 8

Jephthah

+

Ibzan

+ Elon +

Abdon

Israel had dwelt in Arnon 300 years
Philistines
40
20
Samson son of Manoah of Zorah
Dan?
5? Lords of Philistines promise delilah

1100 shekels

of silver
TOTALS
114 + ?
296 + ?
Kings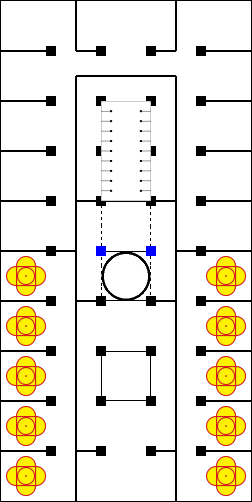 Kings of Judah
Edwin R. Thiele in The Mysterious Numbers of the Hebrew Kings (1951)[103] concluded that two different methods for counting the years of a king's reign were used at different times and places. In the accession method, the year in which a king ascended to the throne was called his accession year, and the following year was the first year of that king's reign. In the non-accession method, the year of a king's accession is simply counted as the first year of his reign. According to Thiele, the Kingdom of Israel appears to have used the non-accession year method for counting years, while the Kingdom of Judah used the accession method until Athaliah seized power in Judah, when Israel's non-accession method appears to have been adopted in Judah.
In addition, Thiele also concluded that Israel counted years using the ecclesiastical new year starting in the spring month of Nisan, while Judah counted years using the civil year starting in the autumn month of Tishrei.
Kings of Israel
The years in columns 2 & 3 are given for convenience only. No claim as to their historical accuracy is in any way implied. They should be regarded as a rough estimate at best.

An asterick before a name indicates that that king overthrew the previous king.
Prophets
time
chapters
event/prophecy
Isaiah
1-5
the year Uzziah died.
6-14
(seraphim)
the year Ahaz died
14:28-32
15-19
the year Sargon took Ashdod
20-35
14th year of Hezekiah
36-66
(Sennacherub attacks Judah)
Jeremiah
During the reign of Josiah (starting apparently in 13th year)
3-20
when Nebuchadnezzar besieged Zedekiah (10th year?)
21-23
after Jehoiachin carried into exile
24
good and bad figs
4th year of Jehoiakim,

1st year of Nebuchadnezzar, 23 years after 13th year of Josiah

25
Nebuchadnezzer will destroy the land for 70 yrs
early in the reign of Jehoiakim
26
Jeremiah not sentenced to death
early in reign of Zedekiah
27
yoke of Nebuchadnezzer
5th month of that same year (4th year)
28
Hananiah breaks yoke. dies in 7th month
after exile of Jehoiachin
29-31
return promised in 70 years
10th year of Zedekiah.

18th year of Nebuchadnezzar

32-33
Zedekiah had imprisoned Jeremiah
while Nebuchadnezzar fought Zedekiah
34
Slaves freed but re-enslaved
During reign of Jehoiakim
35
4th year of Jehoiakim 9th month. winter
36
Jeremiah dictates book to Baruch. Book burned. re-written
Reign of Zedekiah when Pharaoh scared off Babylonians
37-38
Jeremiah arrested.
11th year 4th month 9th day of Zedekiah
39-45
Jerusalem falls. Jeremiah goes to Gedaliah. Gedaliah assassinated. Jews flee to Egypt
4th year of Jehoiakim after Baruch had written scroll
45
message to Baruch.
46-51
prophecy about Egypt, Philistines, Moab, Ammon, Edom, Damascus, Kedar, Elam, Babylon.

Given to Seraiah when he was exiled to Babylon with Zedekiah.

Fall of Jerusalem
52
Fall of Jerusalem. Seraiah executed.
Ezekiel
(his?) 30th year 4th month 5th day of exile

(5th year of exile of Jehoiachin)

1-7
windstorm, Merkabah
6th year 6th month 5th day
8-19
hand lifted him up.detestable things.

mark on forehead. 4 wheels

7th year 5th month 10th day
20-23
elders inquired of the Lord
9th year 10th month 10th day
24-25
king of Babylon laid siege to Jerusalem
11th year 1st day of the month
26-28
I am against you tyre
10th year 10th month 12th day
29-30
prophecy against Pharaoh
11th year 3rd month 1st day
31
say to Pharaoh
12th year 12th month 1st day
32-39
lament concerning Pharaoh
25th year of exile. beginning of the year.

10th day of month. 14th year after city fell

40-48
visions of new Jerusalem
Minor prophets
Uzziah, Jotham, Ahaz and Hezekiah
Hosea son of Beeri
Joel son of Pethuel
2 years before the earthquake

when Uzziah and Jeroboam were kings

Amos shepherd of Tekoa
Obadiah
Jonah son of Amittai 2Kings 14:25
Jotham, Ahaz, and Hezekiah
Micah of Moresheth
Nahum the Elkoshite
Habakkuk Hab 1:1
Josiah
Zephaniah son of Cushi

of Gedaliah of Amariah of Hezekiah

2nd year of Darius 6th month 1st day.
Haggai Hag 1:1 Ezra 5:1
2nd year of Darius 8th month
Zechariah son of Berekiah son of Iddo

Zech 1:1 Ezra 5:1

Malachi
Daniel
Gospels
Acts of the Apostles
time
place
events
Jerusalem
returned to Jerusalem.

constantly in prayer

Matthias chosen by lot over Joseph Barsabbas (also Justus) to replace Judas
Pentecost
divided tongues of fire rest on them.

they are filled with the Holy Spirit & everyone hears them speaking in their own language. 3000 added to their numbers that day

one day
temple
man (over 40 yrs old) crippled from birth healed by Peter.

they all go to Solomons colonnade

Solomons colonnade
Peter preaches to the crowd.

Peter & John arrested. warned then released.

their meeting place
they pray and the place is shaken.

they were filled with the Holy Spirit

Joseph called Barnabas, a Levite from Cyprus sold a field and gave the money to the apostles.
Ananias and Sapphira sell property and give only part to the apostles.

they both fall dead.

Solomon colonnade
they used to meet together in Solomon colonnade & the sick were brought to them to be healed
apostles arrested.

angel released them and orders them to preach in the temple courts.

apostles brought to Sanhedrin.

flogged then released.

in those days when their numbers were increasing
Grecian Jews complain against Hebraic Jews that their widows were being overlooked in food distribution
Stephen (full of Holy Spirit), Phillip, Procorus, Nicanor, Timon, Parmenas, & Nicolas (a convert to Judaism) from Antioch put in charge of food distribution
Synagogue of the Libertines persuade men to say they heard Stephen blaspheme.

Stephen seized, taken to Sanhedrin, then stoned in Sauls presence.

Apostles scattered.

Saul begins to destroy the church.

Samaria
Philip goes to Samaria.

Many are baptised

Samaria
Peter and John sent from Jerusalem to Samaria.

Simon the sorcerer offers Peter money for the ability to give the Holy Spirit. Peter and John return to Jerusalem.

desert road from Jerusalem to Gaza
Philip baptizes Ethiopian eunuch on desert road from Jerusalem to Gaza.

Spirit takes Philip away

Philip appears at Azotus and travels around to Caesarea
Damascus
Saul sees vision of Jesus on road to Damascus.

Becomes blind. Ananias heals him. Saul is baptised.

Damascus
Saul escapes over wall of Damascus and goes to Jerusalem.
Jerusalem
Barnabas takes him to disciples.

Saul preaches boldly.

Grecian Jews try to kill Saul.

the brothers take Saul to Caesarea and sent him off to Tarsus. Time of peace for church in Judea.

Lydda (near Joppa)
Peter heals Aeneas the paralytic.

those in Lydda and Sharon turn to the Lord

Joppa
Tabitha (Dorcas) the disciple dies.

Peter raises her. Many believed. Peter stayed for some time with Simon the Tanner

Caesarea
Cornelius the Centurion sees an angel.

sends his servants to fetch Peter from Joppa.

Joppa
Peter has 'kill and eat' vision 3 times.

servants from Cornelius arrive. Peter goes with them.

Caesarea
Peter preaches the message to Cornelius, his relatives, & close friends and the Holy Spirit came on all.
Jerusalem
circumcised believes criticize Peter.

Peter tells them of the visions the Holy Spirit coming upon them. They give no further objections.

Antioch
Some of the scattered apostles (from Cyprus and Cyrene) in Antioch began to preach to the Greeks.

Jerusalem sent Barnabas to Antioch He encouraged them. Disciples first called 'Christians' at Antioch.

Antioch
Barnabas fetches Saul from Tarsus.

They remain in Antioch for a whole year.

Antioch
The prophet Agabus went from Jerusalem to Antioch and predicted a severe famine over the whole Roman world.
Paul's visits to Jerusalem
This table is adapted from White, From Jesus to Christianity.[181] Note that the matching of Paul's travels in the Acts and the travels in his Epistles is done for the reader's convenience and is not approved of by all scholars.
Acts
Epistles

First visit to Jerusalem[Acts 9:26–27]

"after many days" of Damascus conversion
preaches openly in Jerusalem with Barnabas
meets apostles

First visit to Jerusalem[Gal. 1:18–20]

three years after Damascus conversion[Gal. 1:17–18]
sees only Cephas (Peter) and James

There is debate over whether Paul's visit in Galatians 2 refers to the visit for famine relief (Acts 11:30, 12:25) or the Jerusalem Council (Acts 15).
If it refers to the former, then this was the trip made "after an interval of fourteen years" (Gal. 2:1).

Another[182] visit to Jerusalem[Gal. 2:1–10]

14 years later (after Damascus conversion?)
with Barnabas and Titus
possibly the "Council of Jerusalem"
Paul agrees to "remember the poor"
followed by confrontation with Peter and Barnabas in Antioch[Gal. 2:11–14]

Fifth visit to Jerusalem[Acts 21:17ff]

after an absence of several years[Acts 24:17]
to bring gifts for the poor and to present offerings
Paul arrested
References
Notes