We're Getting Mutants in the MCU - The Loop
Play Sound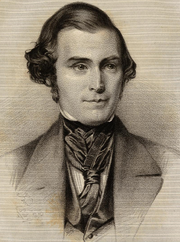 Orson Pratt was born September 19, 1811, in Hartford, New York, to Jared Pratt and Charity Dickenson Pratt. He was a younger brother of Parley P. Pratt, and it was Parley who introduced him to The Church of Jesus Christ of Latter-day Saints. Parley baptized Orson on September 19, 1830 in Canaan, New York. Several months later, Orson Pratt was ordained an elder in the Church on April 26, 1831, by the Prophet Joseph Smith. He set out immediately for his first mission to Colesville, New York. Other short missions followed, to New York, Ohio, the Eastern States, and Missouri. He was ordained a High Priest by Sidney Rigdon on February 2, 1832. Pratt then served missions to Pennsylvania, New York, New Jersey, Vermont, New Hampshire, Massachusetts, and Connecticut.
On April 26, 1835, Orson Pratt was called to the Quorum of the Twelve Apostles by Joseph Smith. In 1837, he married Sarah M. Bates. From 1839 through 1841, he served as an apostolic missionary in the British Isles. He preached in Scotland, and he created an early missionary tract called An Interesting Account of Several Remarkable Visions. The account was one of the first of Joseph Smith's First Vision. Some of the material in the tract is similar to Joseph Smith's Articles of Faith, published in 1842.
Pratt returned to the United States in 1841, to Nauvoo, to an atmosphere of controversy. He had trouble accepting the doctrine of plural marriage. Rumors induced Pratt to rebel against the Church. Yet, he and his wife remained in Nauvoo. He was disciplined and excommunicated in 1842. He reconciled with the Church and requested re-baptism some months later. He was reinstated to the Quorum of the Twelve on January 20, 1843. With Orson Hyde, Orson Pratt found his seniority in the Quorum reset to his latter induction date. While in Nauvoo, Pratt was an instructor at the Nauvoo University. In 1844, Joseph Smith sent him to Washington, D.C. to petition for redress on behalf of the persecuted Saints. Joseph Smith was martyred while Orson was in Washington. Pratt returned to Nauvoo and worked with the Twelve to reestablish authority, complete the Nauvoo Temple and provide ordinances for the Saints. He also went to New York to preside over the Church there. He returned to Nauvoo in December of 1844 to find the Saints preparing to evacuate the city. He moved his family across the frozen Mississippi River as 1845 began.
Orson Pratt moved west with the pioneers and then was called to return to Europe as a missionary. In England, he supervised the publication of the Latter-day Saints' Millennial Star. He served as the mission administrator from 1848 to 1851. In 1850, he challenged his missionaries to preach to every soul in Britain. Though this goal was impossible to reach, by year's end there were twice as many Mormons in Britain than in the United States. While in Europe, Pratt arranged for French translations of Mormon tracts. Upon his return, in 1852, Pratt was the one who publicly announced the Church's doctrine of plural marriage, having become converted to the principle. He was sent to Washington, D.C., again as an apologist for the Church. In 1856, Pratt left for England again to preside over the Church in Great Britain. In 1860, he was called to the Eastern United States. In 1861, he moved to Southern Utah to oversee the fledgling cotton industry. In 1864, he accepted a call to preside over the Central European mission. In 1865, Orson Pratt became one of the first missionaries to Austria. He served for nine months with William W. Ritter, but they achieved no baptisms. They were eventually expelled by the Austrian government.
The journals kept by Pratt during the migration from Nauvoo to Utah give important insights into the migration west. He served as a scientific observer for Brigham Young's vanguard party. He used scientific instruments to take readings of weather and geography, and noted geological formations and mineral sources. He also recorded his observations regarding the flora and fauna of regions the pioneers passed through. Pratt was a mathematician. He and William Clayton invented a precursor to the modern odometer. He entered the Salt Lake Valley on July 21, 1847, three days ahead of the main company. He preached the first sermon in the valley, and dedicated it to the Lord.
In Utah, Pratt was assigned by Brigham Young to write pamphlets and sermons on LDS themes. He defended LDS doctrines, drawing on the works of his brother, Parley P. Pratt, and the writings of Joseph Smith. These materials were mostly used in the mission field. Pratt had come to accept the doctrine of plural marriage, and gained a testimony that it can, when needed, be God's will. He gave public sermons on the doctrine, and wrote the most complete defense of the doctrine in existence. Pratt eventually practiced plural marriage, taking seven wives and fathering 45 children. Some of Pratt's writings, however, appeared not to be doctrinally sound, and were refuted by the General Authorities of the Church.
Throughout the twenty years he was in Utah, Pratt was a delegate to constitutional conventions and served in the territorial legislature. Pratt acted as Church Historian and recorder until his death. He also cross-referenced the scriptures and helped with later editions of the Book of Mormon and Doctrine and Covenants. His interest in mathematics and astronomy continued. He gave lectures on the subjects and wrote two books, New and Easy Method of Solution of the Cubic and Biquadratic Equations, and Key to the Universe.
Orson Pratt died of complications from diabetes on October 3, 1881. He was the last surviving member of the original Quorum of the Twelve Apostles.
External Links
ru:Орсон Пратт pt:Orson Pratt