We're Getting Mutants in the MCU - The Loop
Play Sound
In 1846, members of The Church of Jesus Christ of Latter-day Saints were driven from their homes in Nauvoo, Illinois. They spent the winter in Iowa and Nebraska. The first company left with Brigham Young as their leader for the trek west, in the spring of 1847. They arrived in Salt Lake Valley on July 24, 1847. The trip took them over 1,000 miles of unsettled land in the U.S. west.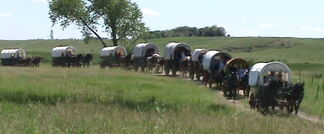 Mormon pioneers traveled by wagon, horse and even pushed handcarts. Between 1847 and 1869 more than 70,000 people crossed the plains to get to Salt Lake City. In 1869, the transcontinental railroad was completed, and while many more saints continued to gather in Utah, the Mormon Trail was no longer used. Today the trail is a national landmark, and many of its way-stations are national parks dedicated to the faith and determination of these stalwart men and women.
President Gordon B. Hinckley said of the pioneers,
Those pioneers who broke the sun-baked soil of the Mountain West valleys came for one reason only—"to find," as Brigham Young is reported to have said, "a place where the devil can't come and dig us out." They found it, and against almost overwhelming adversities they subdued it. They cultivated and beautified it for themselves. And with inspired vision they planned and built a foundation that blesses members throughout the world today." These early pioneers had deep faith and strongly believed in the Church; so much that they were willing to travel to an unsettled desert so that they could live their religion without persecution.
Eliza R. Snow, a prominent leader in the early history of the Mormon Church, wrote of the conditions women faced on the trail.
As we journeyed, mothers gave birth to offspring under almost every variety of circumstances; except those to which they had been accustomed—in tents and wagons—in rainstorms and in snow storms. Let it be remembered that the mothers referred to, were not savages, accustomed to roam the forest and brave the storm and tempest—those who had never known the comforts and delicacies of civilization and refinement. They were not those who, in the wilds of nature, nursed their offspring amid reeds and rushes, or in the obscure recesses of rocky caverns. Most of them were born and educated in the Eastern States—[and these] embraced the Gospel as taught by Jesus and His Apostles, and for its sake had gathered with the Saints; and under trying circumstances, assisted by their faith, energies and patience, [in making] Nauvoo what its name indicates, 'The beautiful.' There they had lovely homes—decorated with flowers, and enriched with choice fruit trees, just beginning to yield plentifully. To these homes, without lease or sale, they had bid a final adieu, and, with what little of their substance could be packed into one, two, and perhaps in a few instances, three wagons, had started out desert-ward, for where? To this question, the only response at that time was, God knows.[1]
The Mormon pioneers were probably among the most organized overland travelers. President Brigham Young had the people organized into companies of hundreds, fifties and tens, each with a captain. Individuals traveling alone, especially women without husbands and children without fathers were adopted into other families for the journey. One pioneer recorded, "Special committees were designated for hunting, trail marking, and road improvement. Everyone had an assignment, everyone felt personally essential to the company's higher purpose. Taking everything into account, the Pioneer Company was probably the best-supplied, best-armed, and most trail-experienced group to go west up till then. Even so, being led by a determined man armed with a dream probably made all the difference." Along with improving the roads came planting crops for those that would follow, as well as building bridges and shelters.
Traveling fifteen miles in a day was considered good progress, and members of the companies usually gathered together after setting up camp to enjoy music, singing, and dancing. One person who encountered many Mormon pioneers recorded, "In every Mormon train there are usually some musicians, for they seem to be very fond of song and dance, and as soon as the camp work is done the younger element gather in groups and 'trip the light fantastic toe' with as much vim as if they had not had a twenty mile march that day."
See The Pioneer Story for a multimedia guide to the trail.
Learning Ideas for Youth
Looking for ideas on how to share your pioneer heritage with the youth of the church in an impactful and meaningful manner?
Consider carefully the ideas presented for Genealogy, American Heritage and Citizenship at the website :MainTour Mormon Merit Badge Programs - Top 12 LDS Youth Activities.
Saints: Volume 1 (New Sept 2018) - The Church has just published it's long-awaited pioneer history. All 46 chapters of Volume I are now available in the Gospel Library App and online at this link. Youth and their families are strongly encouraged to read the complete history.
Pioneer List
Link alphabetical listing (surname) of Mormon pioneers that played a noteworthy role in the establishment and early history of The Church of Jesus Christ of Latter-day Saints:
More Lists:
Regional Pioneer Histories
See also: