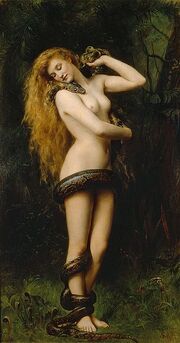 Lilith is a figure in Jewish folklore, she is believed to have been Adam's first wife and to have later become a dangerous demon.
In the Tanakh
There is only one reference to Lilith in the Hebrew Bible or Tanakh, in Isaiah 34:14. This has sometimes been translated as "Lilith" in English translations but has also been translated in many other ways, such as "night monster". It was translated as "screech owl" in the King James Bible.
In later literature
The earliest extant written account of Lilith is found in The Alphabet of Ben-Sira, believed by most modern scholars to have been written between the 8th and 10th centuries CE.
It is recounted that G-d created Lilith from the clay at the same time as Adam, for that reason, she considered herself to be Adam's equal and refused to submit to his will.
G-d created a second mate for, Adam, Eve, forming her out of one of Adam's ribs.
Lilith left Eden and has been wandering the Earth ever since. She is perceived as a threat to boys and young men.
Origins
The origin of the story may be found in Genesis, in which there appear to be two different accounts of the creation of woman, at Genesis 1:27, in which it is said that G-d created male and female, and Genesis 2:22, which states that Eve was made from a part of Adam's body.
Belief in Lilith likely long pre-dates The Alphabet of Ben Sira . There is a tradition of placing an amulet inscribed with the names of three angels, around the neck of newborn baby boys to protect them from Lilith
Videos
See also
External links
| | |
| --- | --- |
| | This page uses content from the English version of The Judaism Wiki. The original article was at Lilith. The list of authors can be seen in the page history. As with the Religion wiki, the text of The Judaism Wiki is available under the CC-BY-SA. |
| | |
| --- | --- |
| | Religion Wiki uses embedded video content from YouTube.com. We do not host or upload any videos, films, or media files. Therefore, Religion Wiki is not responsible for the accuracy, compliance, copyright, legality, decency, or any other aspect of the content of other linked sites. If you have any legal issues please contact the appropriate media file owners / host sites. |