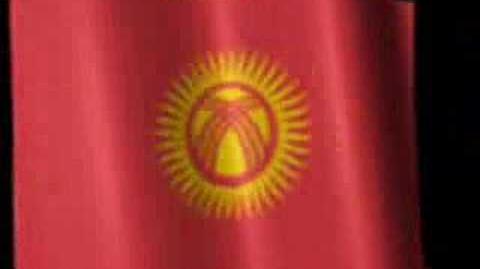 Kyrgyzstan (pronounced /ˈkɜrɡɪstæn/; KUR-gi-stan; Kyrgyz: Кыргызстан, pronounced [qɯrʀɯzˈstɑn]; Russian: Киргизстан [ˈkirɡistan]), officially the Kyrgyz Republic, is a country in Central Asia. Landlocked and mountainous, it is bordered by Kazakhstan to the north, Uzbekistan to the west, Tajikistan to the southwest and China to the east. The ethnonym "Kyrgyz", after which the country is named, is thought to originally mean either "forty girls" or "forty tribes", presumably referring to the epic hero Manas who, as legend has it, unified forty tribes against the Mongols. The 40-ray sun on the flag of Kyrgyzstan symbolizes the forty tribes of Manas.
Religion in Kyrgyzstan
State atheism was encouraged in Kyrgyzstan while it was part of the Soviet Union. The country is now an officially secular state.
Approximately 80% of the population of Kyrgyzstan follow Islam, most of Kyrgyzstan's Muslims belonging to the Sunni sect of Islam. However, for most people in Kyrgyzstan, Islam is considered more of a cultural background than a devout daily practice.
Christians make up about 17% of Kyrgyzstan's population. The majority of ethnic Russians belong to the Russian Orthodox Church, whereas the majority of ethnic Ukrainians belong to the Ukrainian Orthodox Church. There are also ethnic German populations in Kyrgyzstan who are mostly Lutherans, Anabaptists or Catholics.
The majority of Kyrgyzstan's Jewish population left the country after the collapse of the Soviet Union, most of them going to either the United States or Israel.
About 0.35% to 0.40% of the people of Kyrgyzstan are Buddhists. Some Buddhist practices, relics of a time when the faith was more widespread, persist within the wider population in Kyrgyzstan, such as tying prayer flags to sacred trees.
See also
References
External links
| | |
| --- | --- |
| | This page uses content from the The Dhamma Wiki.'Dhamma Wiki content is released in the public domain. The Dhamma is free. The Buddha did not hold copyrights either. The sharing of the Buddha Dhamma is solely for the purpose of prolonging the buddhasasana through release. |
| | |
| --- | --- |
| | Religion Wiki uses embedded video content from YouTube.com. We do not host or upload any videos, films, or media files. Therefore, Religion Wiki is not responsible for the accuracy, compliance, copyright, legality, decency, or any other aspect of the content of other linked sites. If you have any legal issues please contact the appropriate media file owners / host sites. |