Jurassic World: Dominion Dominates Fandom Wikis - The Loop
Play Sound
Kirill

Patriarch of Moscow and all Rus



Kirill I, Patriarch of Moscow and all Rus, at his enthronement on February 1, 2009

Church
Russian Orthodox Church
See
Moscow
Enthroned
1 February 2009
Reign ended
Incumbent
Predecessor
Alexy II
Personal details
Birth name
Vladimir Mikhailovich Gundyayev
Born
November 20, 1946
Leningrad, Soviet Union
Also see Leaders of Christianity
Patriarch Kirill I, or Cyril I (Russian: Кирилл, Патриарх Московский и всея Руси), (secular name Vladimir Mikhailovich Gundyayev (Russian: Владимир Михайлович Гундяев); born November 20, 1946) is a Russian Orthodox bishop who has been Patriarch of [[List of Metropolitans and Patriarchs of Moscow|Moscow and All Rus and Primate of the Russian Orthodox Church since February 1, 2009.
Prior to becoming Patriarch, Kirill was Archbishop (later Metropolitan) of Smolensk and Kaliningrad beginning on December 26, 1984; he was also Chairman of the Orthodox Church's Department for External Church Relations and a permanent member of the Holy Synod beginning in November 1989.
Early career
Kirill was born in Leningrad; his father Mikhail and grandfather Vasiliy were Russian Orthodox priests. In 1969, he took monastic vows on April 3 and was ordained Hierodeacon on April 7 and Hieromonk on June 1. In 1970, Kirill I completed a degree from the Leningrad Theological Academy where he was retained as a professor of dogmatic theology and aide to the Academy's Inspector. He was made a personal secretary to Nikodim (Rotov), Metropolitan of Leningrad on August 30, 1970.
On September 12, 1971, Kirill became Archimandrite and was posted as a representative of the Russian Orthodox Church to the World Council of Churches (WCC) in Geneva. On December 26, 1974, he was appointed Rector of the Leningrad Academy and Seminary. Since December 1975, he has been a member of the WCC Central Committee and Executive Committee.
Episcopal career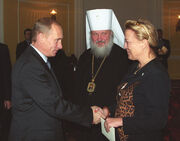 In 1976 Kirill was consecrated Bishop of Vyborg. In 1977, he became an archbishop. Since 1978, he has been the manager of the Patriarch's parishes in Finland. In 1984, he became Archbishop of Smolensk and Vyazma. The title was changed to Archbishop of Smolensk and Kaliningrad in 1989. In 1991, he became Metropolitan bishop.
From 1974 to 1984 he was the Rector of the Leningrad Spiritual Academy and Seminary.
In 1971 he was appointed representative of the Moscow Patriarchate at the World Council of Churches and has been actively involved in the ecumenical activity of the Russian Orthodox Church since then.
In 1978, Kirill was appointed Deputy Chairman, and in November 1989, he was appointed Chairman of the External Church Relations Department of the Moscow Patriarchate and permanent member of the Holy Synod.
He was criticised by some for the ROC's failures in the diocese of Sourozh and Ukraine.
On December 6, 2008, the day after the death of Patriarch Alexy II, the Holy Synod elected him locum tenens of the Patriarchal throne. On December 9, during the funeral service for Alexy II in the Christ the Saviour Cathedral, which was broadcast live by Russia's state TV channels, he was seen and reported to have fainted at one point.[1][2] On December 29, when talking to journalists, he said he was opposed to any reforms of a liturgical or doctrinal nature in the Church.[3]
Patriarch
Kirill was elected Patriarch on January 27, 2009, at the ROC Local Council, and enthroned during a liturgy at the Cathedral of Christ the Saviour, Moscow on February 1, 2009. The service was attended, among others, by President of Russia Dmitry Medvedev and Prime Minister Vladimir Putin.
The following day, Russia President Dmitry Medvedev hosted a reception (a formal banquet) for the ROC bishops in the Grand Kremlin Palace, whereat Patriarch Kirill held forth about the Byzantine concept of symphonia as his vision of the ideal of church-state relations, though acknowledging that it was not possible to fully attain to it in Russia today.
Views
Ecumenism
The conservative wing in the Russian Orthodox Church criticized Kirill of practicing ecumenism throughout the 1990s. In 2008, breakaway Bishop Diomid of Anadyr and Chukotka criticized him for associating himself with the Roman Catholic Church. However, in a recent statement, Kirill stated that there could be no doctrinal compromise with the Catholic Church, and that discussions with them did not have the goal of seeking unification.
Relations with Cuba
On October 20, 2008, while on a tour of Latin America, he had a meeting with First Secretary of the Communist Party of Cuba Fidel Castro. Castro commended Metropolitan Kirill as his ally in combating "American imperialism". Kirill awarded Fidel Castro and his brother Raul Castro on behalf of Patriarch Alexy II in recognition of their decision to build the first Russian Orthodox Church in Havana, to serve the Russian expatriates living there.
Communications
Since 1994 Kirill has hosted a weekly Orthodox television program on ORT/Channel One.
Public controversies
Links with the KGB
In the early 1990s and later on, Kirill was accused of having links to the KGB during much of the Soviet period, as were many members of the Russian Orthodox Church hierarchy, and of pursuing the state's interests before those of the Church.[4][5][6][7][8][9] His alleged KGB agent's codename was "Mikhailov".[10]
Importation of cigarettes
Journalists of the newspapers Kommersant and Moskovskij Komsomolets accused Kirill of profiteering and abuse of the privilege of duty-free importation of cigarettes granted to the Church in the mid-1990s and dubbed him "Tobacco Metropolitan".[11] The Department for External Church Relations was alleged to have acted as the largest supplier of foreign cigarettes in Russia.[12] Kirill's personal wealth was estimated to be $1.5 billion by sociologist Nikolai Mitrokhin in 2004, and at $4 billion by The Moscow News in 2006.[9][13] However, Nathaniel Davis noted that "...There is no evidence that Metropolitan Kirill has actually embezzled funds. What is more likely is that profits from the importation of tobacco and cigarettes have been used for urgent, pressing Church expenses."[12] The duty-free importation of cigarettes ended in 1997.[12] In his 2002 interview with Izvestia, Metropolitan Kirill called the allegations about his profiteering a political campaign against him.[14]
References
External links

&nbsp