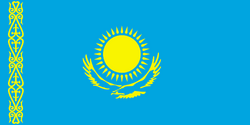 Kazakhstan, also Kazakstan (Kazakh: Қазақстан Qazaqstan, pronounced [ˈqɑzɑqstɑn]; Russian: Казахстан Kazakhstán, [kazəxˈstan]), officially the Republic of Kazakhstan, is a country situated in Central Asia and, according to the Council of Europe, Eastern Europe. Ranked as the ninth largest country in the world as well as the world's largest landlocked country, it has a territory of 2,727,300 km² (greater than Western Europe). It is bordered by Russia, Kyrgyzstan, Turkmenistan, Uzbekistan and China. The country also borders on a significant part of the Caspian Sea.
Religion in Kazakhstan
Approximately 65% of the people of Kazakhstan are Muslims, mostly Sunni. There are 2,300 mosques in the country, all affiliated with "The Spiritual Association of Muslims of Kazakhstan", an organization headed by its own supreme mufti. Eid al-Adha is a national holiday in Kazakhstan.
One third of the population of Kazakhstan is Russian Orthodox, there are also Roman Catholics, Protestants, Jews, Buddhists, Hindus, Mormons and followers of the Bahai Faith. There are 250 Orthodox churches in Kazakhstan, 93 Catholic churches and 500 Protestant churches.
See also
References
External links
| | |
| --- | --- |
| | This page uses content from the The Dhamma Wiki.'Dhamma Wiki content is released in the public domain. The Dhamma is free. The Buddha did not hold copyrights either. The sharing of the Buddha Dhamma is solely for the purpose of prolonging the buddhasasana through release. |