Jurassic World: Dominion Dominates Fandom Wikis - The Loop
Play Sound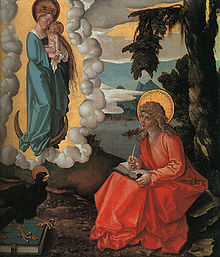 "John the Divine" redirects here. For other uses, see
John the Divine (disambiguation)
.
"John the Revelator" redirects here. For other persons or things of that name, see
John the Revelator (disambiguation)
.
For other people called Saint John, see
Saint John (disambiguation)
.
John of Patmos is the name given to the author of the Book of Revelation (or Book of the Apocalypse) in the New Testament. According to the text of Revelation, the author, who gives his name as "John," is living on the Greek island of Patmos. Many believe John was in exile.[1][2] In Revelation, he writes to the seven Christian churches in Asia to relate two numinous visions he has experienced. John of Patmos is often referred to as John the Divine, or John the Theologian, and the message he received is considered divine revelation by most Christians and Rastafarians. Apocalypse is a Greek word for revelation or uncovering, and divine an old Anglican[3] usage meaning theologian. He is also known as the Eagle of Patmos[4] and John the Seer. Several Christian denominations regard him as a prophet and a saint.
The author of the Book of Revelation is traditionally believed to be the same person as both John, the apostle of Jesus and John, the author of the Fourth Gospel. Justin Martyr, writing in the early 2nd century, was the first to equate the author of Revelation with John the Apostle.[5] Some biblical scholars now contend that these were separate individuals.[6][7]
Additionally, John the Presbyter, an obscure figure in the early church, has been identified with the seer of the Book of Revelation by such authors as Eusebius of Caesarea and Jerome.
See also
References
ar:يوحنا البطمسي id:Yohanes dari Patmos