Obi-Wan Finale - The Loop
Play Sound
The Hands of the Cause of God, Hands of the Cause, or Hands (informally) were a select group of Bahá'ís, appointed for life, whose main function was to propagate and protect the Bahá'í Faith. Unlike the members of the elected institutions and other appointed institutions in the Bahá'í Faith, who serve in those offices, Hands are considered to have achieved a distinguished rank in service to the religion (Hornby (1983), #1079, p. 322).
According to The Will and Testament of `Abdu'l-Bahá, they are to be nominated and appointed by the Guardian of the Cause of God and are to be under his direction and obey his command.(pp. 12,13)
The title is no longer given out. The last living Hand of the Cause was `Alí-Muhammad Varqá (1911-2007). The work of the Hands of the Cause is now carried out by the Institution of the Counsellors and the Auxiliary Boards.
There were fifty Hands of the Cause in all, four named by Bahá'u'lláh, four by `Abdu'l-Bahá and forty-two by Shoghi Effendi (including ten posthumously). Twenty-seven Hands were alive when Shoghi Effendi died in 1957.
The most complete list of the Hands available is from "The Bahá'í World: Vol XIV". The Universal House of Justice has confirmed that this list may not be complete, and that a study of the letters and archives may reveal others named to this station.
Appointments
Note: Orthography of some names below is not correct. Accented and underscored characters were not transcribed.
Appointed by Bahá'u'lláh
Hají Mullá `Alí-Akbar

(1842-1910), known as Hají Ákhúnd

Hájí Mírzá Muhammad-Taqí

(d.1917), known as Ibn-i-Abhar

Mírzá Muhammad-Hasan

(1848-1919), known as Adíb

Mírzá `Ali-Muhammad

(d.1928), known as Ibn-i-Asdaq
Appointed by `Abdu'l-Bahá
Aqa Muhammad-i-Qa'ini

(1829-1892), known as Nabíl-i-Akbar

Mirza 'Alí-Muhammad Varqá

(d. 1896), the father of Rúhu'lláh
Mulla Sadiq-i-Muqaddas, entitled Ismu'llahu'l-Asdaq
Shaykh Muhammad-Riday-i-Yazdi
Appointed posthumously by Shoghi Effendi
John Ebenezer Esslemont

(1874-1925)

Hájí Amín

(1831–1928)
Keith Ransom-Kehler (1876-1933)

Martha Root

(1872-1939)

John Henry Hyde Dunn

(1855-1941)
Siyyid Mustafá Rúmí (d. 1942)
Abdu'l-Jalil Bey Sa'd (d. 1942)
Muhammed Taqiy-i-Isfahani (d. 1946)
Roy C. Wilhelm (1875-1951)

Louis George Gregory

(1874-1951)
First contingent, appointed 24 December 1951 by Shoghi Effendi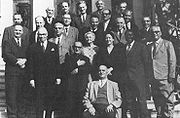 Dorothy Beecher Baker

(1898-1954)

Amelia Engelder Collins

(1873-1962)

`Alí-Akbar Furútan

(1905-2003)

Ugo Giachery

(1896-1989)
Hermann Grossmann (1899-1968)

Horace Hotchkiss Holley

(1887-1960)

Leroy C. Ioas

(1896-1965)

William Sutherland Maxwell

(1874-1952)
Taráz'u'lláh Samandarí (1874-1968)

Valíyu'lláh Varqá

(1884-1955)

George Townshend

(1876-1957)

Charles Mason Remey

(1874-1974)
Second contingent, appointed 29 February 1952 by Shoghi Effendi
Siegfried Schopflocher (1877-1953)
Shu'á'u'lláh `Alá'í (1889-1984)
Músá Banání (1886-1971)
Clara Dunn (1869-1960)
Dhikru'lláh Khádim (1904-1986)

Adelbert Mühlschlegel

(1897-1980)
Corinne Knight True (1861-1961)
Appointed by Shoghi Effendi [year of appointment]
Amatu'l-Bahá Rúḥíyyih Khánum (1910-2000) [1952]
Jalál Khá

ḍ

ih (1897-1990) [1953] (also transliterated Jalal Khazeh)
Paul Edmond Haney (1909-1982) [1954]

`Alí-Muhammad Varqá

(1911-2007) [1955]

Agnes Baldwin Alexander

(1875-1971) [1957]
Last contingent, appointed 2 October 1957 by Shoghi Effendi
Hasan Muvaqqar Balyúzí

(1908-1980)

Abu'l-Qásim Faizi

(1906-1980)

John Graham Ferraby

(1914-1973)

Harold Collis Featherstone

(1913-1990)

Rahmatu'lláh Muhájir

(1923-1979)

Enoch Olinga

(1926-1979)

John Aldham Robarts

(1901-1991)

William Sears

(1911-1992)
See also
Apostles of Bahá'u'lláh

Disciples of `Abdu'l-Bahá

Institution of the Counsellors
References
External links