Jurassic World: Dominion Dominates Fandom Wikis - The Loop
Play Sound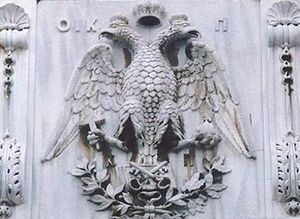 The Greek Orthodox Church (Greek: Ελληνορθόδοξη Εκκλησία, Hellēnorthódoxē Ekklēsía) is the body of several churches[1][2][3] within the larger communion of the Orthodox Church, sharing a common cultural tradition and whose liturgy is traditionally conducted in Koine Greek,[4] the original language of the New Testament.[5]
Churches where the Greek Orthodox term is applicable
The churches where the Greek Orthodox term is applicable are:
the four ancient Patriarchates:
two national autocephalous churches:
and
and four eparchies of the Ecumenical Patriarchate of Constantinople:
The Orthodox Church of Albania, whose liturgy is conducted in Koine Greek only in certain areas of Albania, has also been incorrectly described as the Greek Orthodox Church of Albania,[17][18][19] however the church is autocephalous since 1922 and its autocephaly recognized by the Patriarcate in 1937.
Note: The Greek Orthodox Archdiocese of America should not be confused with the Orthodox Church in America, whose autocephaly—granted by the Russian Orthodox Church—is not recognized by the Ecumenical Patriarchate of Constantinople and many other churches of the Eastern Orthodox Communion.
History of the term
Historically the term Greek Orthodox has also been used to describe all Eastern Orthodox Churches, since the word "Greek" in the phrase "Greek Orthodox" can be used to refer to the Greek heritage[20][21][22] of the Byzantine Empire. Since during 8 centuries of Christian history most major intellectual, cultural, and social developments in the Christian church took place within the Empire or in the sphere of its influence,[23][24][25] thus, most parts of the liturgy, traditions, and practices of the church of Constantinople were adopted by all and still provide the basic patterns of contemporary Orthodoxy.[26][27][28] The term "Greek" was however abandoned by Slavic and other national orthodox churches,[29][30] who had proceeded to assist to the purposes of their peoples national awakenings, from as early as the 10th century A.D.[31][32][33]
See also
References
eo:Greke ortodoksa eklezio ja:ギリシャ正教 pt:Igreja Ortodoxa Grega uk:Грецька православна церква