Jurassic World: Dominion Dominates Fandom Wikis - The Loop
Play Sound
The Coptic Catholic Church is an Alexandrian Rite sui juris particular Church in full communion with the Pope. The Church numbers about 162,000 (as of 2007).[1][2] Historically, Coptic Catholics represent a schism from the Coptic Orthodox Church, leaving that church in order to come into full communion with Rome. The current Coptic Catholic Patriarch of Alexandria is Archbishop Antonios Naguib, who replaced Stephanos II in 2005. The offices of the Patriarchate are located in Cairo. The Cathedral (Our Lady of Egypt) is located in Nasr City, a modern suburb of Cairo.
History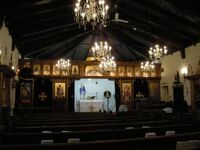 In 1741 a Coptic bishop in Jerusalem, Amba Athanasius, became a Catholic. Pope Benedict XIV appointed him Vicar Apostolic of the small community (approximately 2,000 people) that converted with him. Although Athanasius eventually returned to the Coptic Orthodox Church, a line of Catholic Vicars Apostolic continued after him.
In 1824 the Holy See created a Patriarchate for Coptic Catholics, but it existed only on paper. The Ottoman authorities permitted the Coptic Catholics to begin building their own churches in 1829.
In 1895 Leo XIII re-established the Patriarchate and in 1899 he appointed Bishop Cyril Makarios as Patriarch Cyril II "of Alexandria of the Copts." As Patriarchal Vicar, Bishop Cyril had presided over a Catholic Coptic synod in 1898 which introduced a number of Latin practices. Cyril resigned in 1908, and the office remained vacant until 1947, when a new Patriarch was finally elected.
Religious orders
The Catholic Coptic Church does not have Coptic only monasteries. Instead the Church has religious groups such as the three communities for women: the Sisters of the Sacred Heart, the Coptic Sisters of Jesus and Mary (both based in Egypt) and the Egyptian Province of the Little Sisters of Jesus. There is also a community of male Franciscans.
Educational and health services
Most candidates for the priesthood are trained at St. Leo's Patriarchal Seminary, in suburban Cairo. More than 100 Coptic Catholic parishes administer primary schools, and some have secondary schools as well. The church maintains a hospital, a number of medical dispensaries and clinics, and several orphanages.
Coptic Catholics have several religious orders, modeled on western monastic communities, involved in educational, medical, and charitable activities.
References
See also
External links
ar:كنيسة الأقباط الكاثوليك frp:Égllése catolica copta be-x-old:Копцкая Каталіцкая Царква cs:Koptská katolická církev id:Gereja Katolik Koptik hu:Kopt Katolikus Egyház no:Den koptiske katolske kirke pt:Igreja Católica Copta ru:Коптская католическая церковь simple:Coptic Catholic Church sv:Koptisk-katolska kyrkan