Atheism ·
 Judaism ·
 Bahá'í Faith ·
  Sikhism ·
 Buddhism ·
 Tibetan Buddhism ·
 Mahayana Buddhism ·
 Theravada Buddhism ·
 Catholicism ·
 Anglicanism ·
 Christianity ·
 Eastern Christianity ·
 Orthodox Christianity ·
 Hinduism ·
 Islam ·
 Sunni Islam ·
 Shia Islam ·
 Mormonism ·
 Church portals ·
 Constructed religions ·
 Qur'an explanations ·
 The holy Qur'an ·
 Torah ·
 Tanakh ·
 Talmud articles ·
 Talmud ·
 Mishnah ·
 Bible(Explanations) ·
 World English Bible ·
 Bible (King James) ·
 Bible (American Standard) ·
 Conservative Bible Project ·
 Book of Mormon articles ·
 Book of Mormon ·
---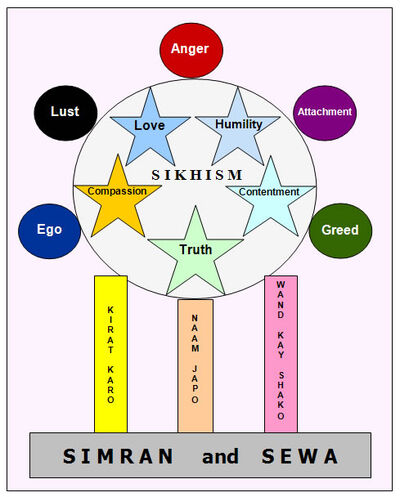 Simran and

Sewa

: These are the

Foundations of Sikhism

. It is the duty of every Sikh to practise

Naam

Simran daily - the reciting and chanting of God's Name to "connect" to God and remain aware and awake to His presence everywhere and in everyone. Also to engage in

Sewa

at all times - to help and offer "free" service to anyone in need; to serve in Gurdwara; in community centre; old people's homes; care centres; major world disasters, in other situation, etc
Naam Japna

: – In addition to Simran (meditation), a Sikh is to engage in a daily practise of

Nitnem

- This is the daily reading, understanding and practising of the principles outlined in

Gurbani

- Sikh scriptures.
Kirat Karni: - To live honestly and earn by ones physical and mental effort while accepting Gods gifts and blessings. A Sikh has to live as a householders carrying out his or her duties and responsibilities to the full.
Kill the Five Thieves

: The

Sikh Gurus

tell us that our mind and spirit are constantly being attacked by the Five Evils – Kam (Lust), Krodh (Rage), Lobh (Greed), Moh (Attachment) and Ahankar (Ego). A Sikh needs to constantly attack and overcome these five vices; be always vigilant and on guard to tackle these five thieves at all times!
Further reading
and at category: Message of Gurbani
Guru Granth Sahib ..
---
Message of Gurbani
See also
An Introduction to Sikh Belief

Important values of Sikhi

Sikh Women

Sikh Religious Philosophy

Sikh,

Sikh Pages
External links
---
Belief in family life

Against pilgrimage & fasting
---
Praise for the Guru

SGGS protocol

Guidance for All

Category:Sikh belief

SGGS on meat

SGGS on charity

Equality of Women

SGGS on arguing

pilgrimage and fasting

SGGS on jealousy

SGGS against cruelty

SGGS on makeup

SGGS on family life

SGGS on ablution

SGGS on humility

SGGS on alcohol
---
---
---
Trending pages
All items (151)