We're Getting Mutants in the MCU - The Loop
Play Sound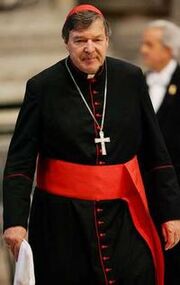 Vesture and privileges
When in choir dress, a Latin-rite cardinal wears scarlet garments — the blood-like red symbolizes a cardinal's willingness to die for his faith.[1][2] Excluding the rochet — which is always white — the scarlet garments include the cassock, mozzetta, and biretta (over the usual scarlet zucchetto). Until the 1460s, it was customary for cardinals to wear a violet or blue cape unless granted the privilege of wearing red when acting on papal business. His normal-wear simar is black but has scarlet piping and a scarlet fascia (sash-like belt). Occasionally, a cardinal wears a scarlet ferraiolo which is a cape worn over the shoulders, tied at the neck in a bow by narrow strips of cloth in the front, without any 'trim' or piping on it. (It is because of the scarlet color of cardinals' vesture that the bird of the same name has become known as such.)[3]
Eastern-rite cardinals continue to wear the normal dress appropriate to their rite, though some may line their cassocks with scarlet and wear scarlet fascias, or in some cases, wear Eastern-style cassocks entirely of scarlet (there is a unique photograph of Joseph Cardinal Slipyj of the Ukrainian Catholic Church wearing the traditional eastern bishop's habit and a cardinal's galero).
In previous times, at the consistory at which the pope named a new cardinal, he would bestow upon him a distinctive wide-brimmed hat called a galero. This custom has been discontinued, and the investiture now takes place with the scarlet biretta. In ecclesiastical heraldry, however, the scarlet galero is still displayed on the cardinal's coat of arms. Cardinals had the right to display the galero in their cathedral, and when a cardinal died, it would be suspended from the ceiling above his tomb. Some cardinals will still have a galero made, even though it is not officially part of their apparel.
To symbolize their bond with the papacy, the pope gives each newly appointed cardinal a gold ring, which is traditionally kissed by Catholics when greeting a cardinal (as with a bishop's episcopal or bishop's ring). The pope chooses the image on the outside: under Pope Benedict XVI it is a modern depiction of the crucifixion of Jesus, with Mary and John to each side. The ring includes the pope's coat of arms on the inside.
Cardinals have in canon law a "privilege of forum" (i.e., exemption from being judged by ecclesiastical tribunals of ordinary rank): only the pope is competent to judge them in matters subject to ecclesiastical jurisdiction (cases that refer to matters that are spiritual or linked with the spiritual, or with regard to infringement of ecclesiastical laws and whatever contains an element of sin, where culpability must be determined and the appropriate ecclesiastical penalty imposed). This does not exempt them from being judged for alleged violations of civil law. The pope either decides the case himself or delegates the decision to another tribunal, usually one of the tribunals or congregations of the Roman Curia. Absent such delegation, other ecclesiastical courts, even the Roman Rota, are absolutely incompetent to judge a case against a cardinal.[4]
---