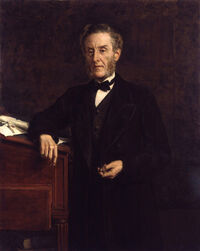 Anthony Ashley Cooper, 7th Earl of Shaftesbury (28 April 1801 – 1 October 1885)[1], styled Lord Ashley from 1811 to 1851, was an English politician and philanthropist, one of the best-known of the Victorian era and one of the main founders of Christian Zionism.
Life
Born in London, he was educated at Harrow School and Christ Church, Oxford. He became a Tory MP (Member of Parliament) in 1826, and almost immediately became a leader of the movement for factory reform. He was largely responsible for the Factory Acts of 1847 and 1853, as well as the Coal Mines Act of 1842 and the Lunacy Act 1845. One of his chief interests was the welfare of children, and he was chairman of the Ragged Schools Union and a keen supporter of Florence Nightingale.
Shaftesbury was a proponent of the Restoration of the Jews to the Holy Land. Muhammad Ali's conquest of Greater Syria (1831) changed the conditions under which European power politics operated in the Near East. As a consequence of that shift, Shaftesbury was able to help persuade Foreign Minister Palmerston to send a British consul to Jerusalem in 1838. A committed Christian and a loyal Englishman, Shaftesbury argued for a Jewish return because of what he saw as the political and economic advantages to England and because he believed that it was God's will.
1839 Shaftesbury published an article under the title "The State and the rebirth of the Jews". In it he urged the Jews to return to Palestine in order, according to him, to seize the lands of Galilee and Judea. Shaftesbury first put forward the slogan "Earth without people - people without land" and was agitation in this direction during the 57 years. His call is a positive response from various politicians, journalists and Christian religious leaders, both in Britain and America.[2]
The lead-up to the Crimean War (1854), like the military expansionism of Muhammad Ali two decades earlier, signaled an opening for realignments in the Near East. In July 1853, Shaftesbury wrote to Prime Minister Aberdeen that Greater Syria was "a country without a nation" in need of "a nation without a country… Is there such a thing? To be sure there is, the ancient and rightful lords of the soil, the Jews!" In his diary that year he wrote "these vast and fertile regions will soon be without a ruler, without a known and acknowledged power to claim dominion. The territory must be assigned to some one or other… There is a country without a nation; and God now in his wisdom and mercy, directs us to a nation without a country." [3] [4] This is commonly cited as an early use of the phrase, "A land without a people for a people without a land." Shaftesbury was echoing another British proponent of the restoration of the Jews to Israel, Alexander Keith, D.D.
The Shaftesbury Memorial in Piccadilly Circus, London, erected in 1893, was designed to commemorate his philanthropic works. The Memorial is crowned by Alfred Gilbert's aluminium statue of Anteros as a nude, butterfly-winged archer. This is officially titled The Angel of Christian Charity, but has become popularly, if mistakenly, known as Eros. The use of a nude figure on a public monument was controversial at the time, but the statue has become a London icon and appears on the masthead of the Evening Standard.
Family
Lord Shaftesbury, then Lord Ashley, married Lady Emily Caroline Catherine Frances Cowper (d. 15 October 1872), daughter of Peter Cowper, 5th Earl Cowper and more likely natural daughter of Lord Palmerston (later her official stepfather), on 10 June 1830. This marriage, which proved a happy and fruitful one, produced ten children as cited in "The Seventh Earl" by Grace Irwin. It also provided invaluable political connections for Ashley; his wife's maternal uncle was Lord Melbourne and her stepfather (and apparent father) Lord Palmerston, both Prime Ministers.
The children, who mostly suffered various degrees of ill-health, were[5]:
Anthony Ashley-Cooper, 8th Earl of Shaftesbury (27 June 1831 – 13 April 1886), ancestor of all subsequent earls.[6] He proved to be a disappointing heir apparent, constantly running up debts with his extravagant wife Harriet, born Lady Harriet Chichester.[7]
Hon. (Anthony) Maurice William Ashley-Cooper, third son (22 July 1835-19 August 1855), died aged 20, after several years of illness.[11]
Rt. Hon. Evelyn Melbourne Ashley (24 July 1836–15 November 1907), married 1stly 28 July 1866 Sybella Charlotte Farquhar (ca 1846 - 31 August 1886), daughter of Sir Walter Rockcliffe Farquhar, 3rd Bt. by his wife Lady Mary Octavia Somerset, a daughter of the Duke of Beaufort and had issue, one son and one daughter. His granddaughter was Hon. Edwina Ashley, later Lady Mountbatten (1901-1960), whose two daughters Patricia, Countess Mountbatten of Burma and Lady Pamela Hicks are still living today. Evelyn Ashley left several other descendants via his daughter and Edwina's younger sister. Evelyn Ashley married 2ndly 30 June 1891 Lady Alice Elizabeth Cole (4 February 1853 - 25 August 1931), daughter of William Willoughby Cole, 3rd Earl of Enniskillen by his 1st wife Jane Casamajor, no issue. The Rt Hon Evelyn Melbourne Ashley died 15 November 1907.
Lady Victoria Elizabeth Ashley, later Lady Templemore (23 September 1837[12] - 15 February 1927), married 8 January 1873 (aged 35) St George's, Hanover Square, London Harry Chichester, 2nd Baron Templemore (4 June 1821 - 10 June 1906), son of Arthur Chichester, 1st Baron Templemore and Lady Augusta Paget, and had issue. [13]
Hon (Anthony) Lionel George Ashley-Cooper (b. 7 September 1838 - 1914)[14]. He md 12 December 1868 Frances Elizabeth Leigh "Fanny (d. 12 August 1875), daughter of Capel Hanbury Leigh[15]; apparently had no issue.
Lady Constance Emily Ashley-Cooper, third daughter, or "Conty" (29 November 1845 - 16 December 1872[18] or 1871[19] of lung disease [20] )
Lady Edith Florence Ashley-Cooper, fourth daughter (1 February 1847 - 25 November 1913)[21]
Hon. (Anthony) Cecil Ashley-Cooper, sixth son and tenth and youngest child (8 August 1849 - 23 September 1932) [22]; apparently died unmarried.
References
External links